Five Tips to Jump Start Your Warranty Experience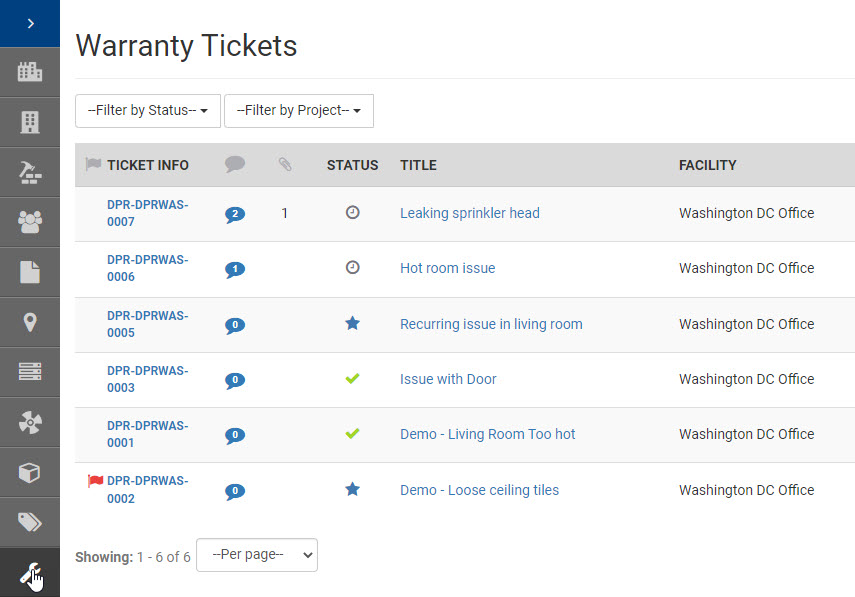 Five Tips to Jump-Start Your Warranty Experience
Your general contractor (GC) just turned over the keys to your new facility – now what? Most GCs provide a warranty program to fix any construction errors. Warranty programs provide an important bridge from construction into ongoing operations, so having an efficient process for resolving warranty issues is a critical component of effective facility operations. VueOps SiteLine℠ includes a warranty ticketing system. It is the jumping-off point for most users and doing it effectively can be the difference between maintaining uninterrupted operations and your team falling behind, chasing unresolved issues.
What exactly does an efficient warranty process look like? And how can you ensure your efforts are as effective as possible? To help you answer those questions, we have put together five tips you can leverage to do it right.
Start with understanding what your warranty does and does not cover.

Having a warranty on a piece of your equipment means your builder will cover the cost of repair if there is a defect with the product itself. Issues not usually included are normal wear and tear, improper usage, damage from natural disasters, and long-term environmental damage. Reference your contract with the GC to understand your warranty coverage.

Use a warranty ticketing system like SiteLine to document warranty issues and accelerate resolutions. SiteLine provides a collaborative platform for building occupants, facility maintenance teams, GCs, and trade partners to manage your warranty tickets. It's important to add all these stakeholders to SiteLine to enable quick and open communication whenever you need it. Read more: Collaborating on a Ticket, a Trade Partners Guide
Understanding roles and responsibilities of your warranty team. You, your project team, and your trade partners all have separate roles within the warranty ticket workflow. The trades have their contract directly with the GC, not the owner of the building or with your FM team. Owner Furnished Equipment (OFE) such as an elevator, is the responsibility of the building owner not the GC. Understanding who is responsible for what and how everyone works together will help you get one step closer to

getting your matter resolved quickly.




Detail as much as possible in your warranty ticket submission. State your issue in a succinct manner and request how you would like the problem resolved. Attach documentation and photos. Have one issue per ticket and make sure to copy the rest of your FM team and your project team using the "Watchers" feature within the ticket.
Use the "Comments" section to collaborate within the ticket. The comments section is the place for questions, comments, and confirmations from all collaborators. Make sure to tag people by using the @sign - this notifies them directly. Otherwise, a comment is just text, and team members may miss it.
By leveraging these strategies, you will be able to pinpoint your issues and routinely connect with those who can get your critical equipment back up and running quickly.