FM Champions: Making Magic Happen, Part 2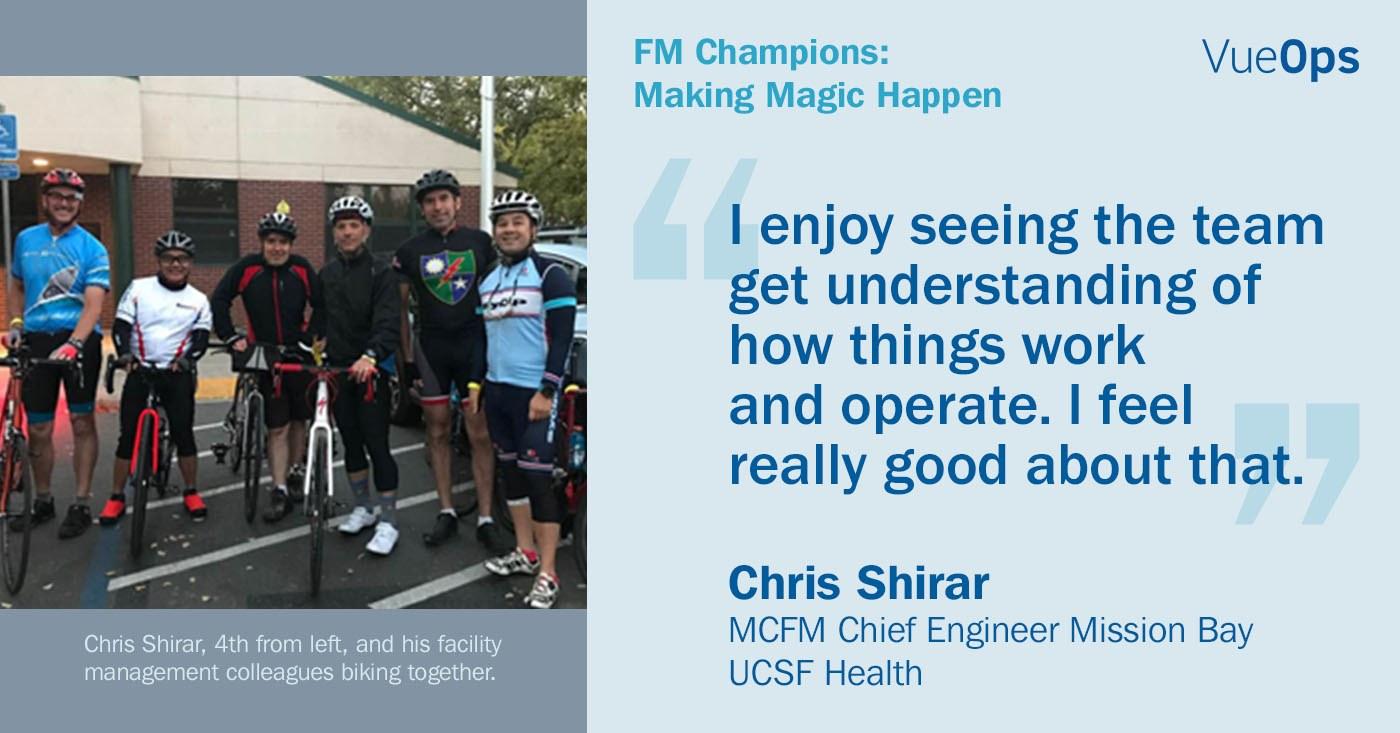 May 15 is World Facilities Management day. To celebrate, VueOps is recognizing the behind-the-scenes heroes of the built environment. Part 2 of this series is an interview with Chris Shirar.
---
Chris Shirar has been in Facility Management for 20 years, 10 of them at UCSF Health. As the Chief Engineer at the UCSF Medical Center at Mission Bay, Chris' team is responsible for UCSF's newest state-of-the-art hospital complex that has been designed to ensure that the facilities match UCSF's top-notch patient care.
Opportunity is a big reason why Chris entered into the FM profession. Chris sees "vast opportunities for growth and learning; there are so many different avenues through facilities management." The healthcare space is particularly interesting to Chris, due to the innovation and technology those spaces use to help patients be healthy.
Like many others, Chris "fell into" the FM world. "My background is in fire protection and HVAC," he notes. A friend once asked him to consider facility management. A few years later, Chris decided to take the plunge. "I got an interview, and the rest is history. Once I finally saw what facility management could be for me, I felt like a kid in a candy store."
Chris' favorite part of his job as Chief is the growth of his team. "I enjoy seeing the team get understanding of how things work and operate. I feel really good about that." Working for a hospital campus also gives him a sense of pride. Chris notes, "Our job is very challenging. We are in a lot of critical situations." Without careful planning, a facility crisis or maintenance need can affect patient care. "We have to communicate and coordinate with hospital staff to ensure that medical professionals and patients have access to the spaces that they need and that those spaces function optimally."
Chris is happy to have VueOps as a trusted partner in this effort. "VueOps makes us more efficient and more organized. Accessing [building intelligence] out on the field on a tablet is a game changer. I can create a work order on an asset as I'm walking the hallways, with just a touch. VueOps helps us save time, be more efficient and look more professional."
Are you interested in the FM Industry? Chris' biggest advice to newbies: "Know the building you are working in!"
Thank you to Chris Shirar for his dedication to excellence in Facility Management. It is facility managers like him to celebrate on World FM day, and every day.