Introducing PDF Markups: Hyperlink, Comment, Draw - all within VueOps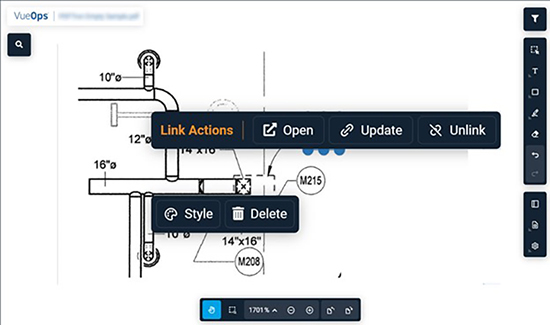 One of our most popular VueOps features just got better. Users love how easy it is to find and view drawings, submittals, and O&M manuals in VueOps. Now, we've added the ability to add markups on top of these documents. Resources like PDF markups offer the opportunity to streamline daily facility management processes and cater to document and data management needs.
VueOps new, easy-to-use PDF markup tools:
Add comments. Use markup tools such as text boxes, shapes, and freehand sketching to capture and communicate information. Hyperlink drawings, add callouts and use clouds directly from the VueOps PDF Viewer.
Save markups. Save, download, or print files with markups to share.
About VueOps
VueOps® helps you Know Your Building Inside Out™, exceeds your facility design and performance goals, and improves building-life cycle management. We work closely with building owners to specify their facility management data requirements for capital projects and design workflows to collect, validate, transfer, and manage data for use throughout the building lifecycle. Our cloud platform provides a smart, simple, and easy way to find construction turnover information and find information about assets installed in the facility, using search, 2D, and 3D visualization. Visit vueops.com to learn more.