National Real Estate Investment Trust Uses VueOps for Sustainable and Efficient Facility Data Management

Overview
The facility engineers for this large REIT (Real Estate Investment Trust) need to be creative and innovative. They need to maintain a highly complex portfolio of laboratories and office buildings that advance human health.
They needed a focused strategy to improve asset reliability and performance for their new 82,000 sq. ft. headquarters. Their goal - to exceed facility design and performance goals and improve building-life cycle management.
This strategy led to a partnership with VueOps, the asset management software subsidiary of DPR Construction, and includes using SiteLine℠ as their Digital Plan Room. SiteLine has since become a foundational requirement for many of their existing facilities across the nation. In addition, VueOps has developed a full set of data standards for all their future smart, sustainable, and high-performance facilities.
Challenges
Their first step was to figure out how to maximize the construction turnover data. What was the turnover plan? What asset types were they interested in collecting and why? Too much data could be overwhelming. Because the turnover data would be designed for construction and not for facility maintenance, the building and operations teams had to review their priorities. They took a close look at what asset types were important to their operations and asked their builder to include them as part of the construction turnover deliverable.
As most construction projects progress, some dimensions change, or equipment is moved to a new location for various reasons. Once the building is occupied, the group needs to know exactly where their equipment is located. This is where an accurate data set is critical to their digital plan room. With the right data in hand, the organization would have an easier time managing preventative and reactive maintenance events.
The organization was committed to working collaboratively with VueOps to extend the value of its construction information. By prioritizing high-quality data early on, they would be able to rely on it well beyond the build. Once there was a plan for turnover, they needed a digital platform they could rely on to quickly and efficiently investigate their data, documents, drawings, and models to solve any problem fast. Greater facility up-time and efficient issue resolution would result in higher tenant satisfaction.
Solution
After careful consideration, the decision was made to use VueOps SiteLine, highlighting four key features - Documents, Assets, Models, and Locations. These served as a single source of truth for all facility information. Teams quickly view drawings, documents, and/or information about the impacted location, asset, or system, using tagging and powerful search. They can flag room numbering issues, guide design updates, search a database of unique finishes, and meet their goal of day-one operational readiness.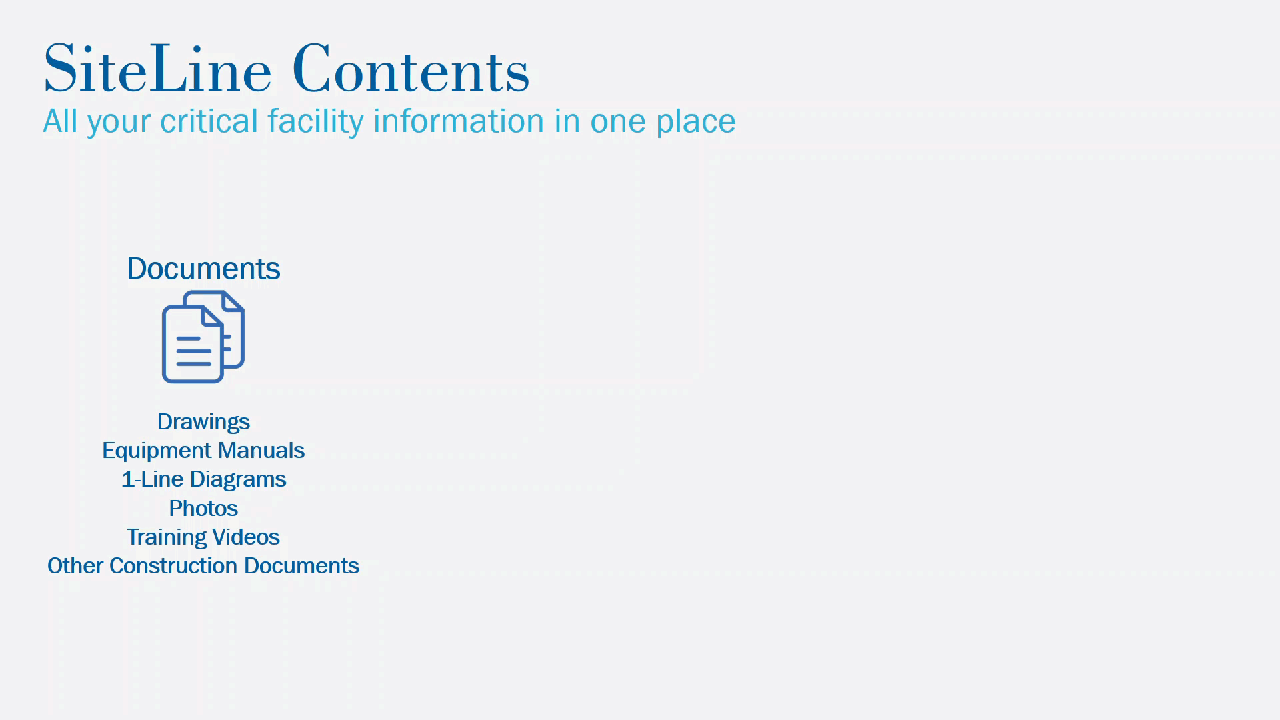 Facilities Management Highlights:
Single source of truth for all facility documents, data, models

Fully searchable database of facility and asset data

CMMS (Angus) data import – day-one operational readiness

QA/QC review – naming and numbering, naming conventions

Mobile warranty ticketing solution to use with any future project team
Result
With a significant market presence in key locations, including Greater Boston, the San Francisco Bay Area, New York City, San Diego, Seattle, Maryland, and the Research Triangle, the group saw this as an important foundation for the company moving forward. Success with the solution at their headquarters has led to implementation at nine additional facilities across the country.
In addition, they now insist on appropriate naming conventions from the beginning of any new construction, improving their operational efficiency down the road. For example, each of their rooms will have a unique name and number (e.g., Maintenance 101 A, Maintenance 101 B) and they will be able to identify all equipment with a unique asset tag. With the proper coding, maintenance issues can quickly be addressed, meaning, their facility teams won't lose time finding the correct room or piece of equipment. 
With VueOps SiteLine, this REIT's goals of facilities management integration with information accessibility and utilization of a smart building adoption strategy are all within reach.